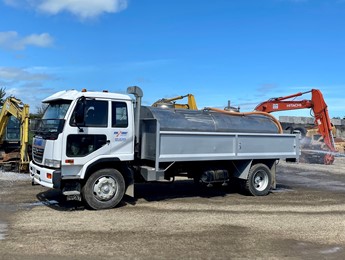 4X2 Sprinkler Truck: S/S Tank 6,000L
| | |
| --- | --- |
| Nissan PK245 tip truck complete with 6000L stainless steel water tank. Fitted with high pressure water pump controlling front and rear sprinkler bar with fan jet and flood jet nozzles.  Certified tie points, 9 speed road ranger, 3 way tail gate.  Fire hose available if required. Per day +  75 cents p/km exc GST/Damage Waiver | $440.00 |
| Weekly Rate + 75 cents p/km exc GST/Damage Waiver | $1750.00 |
| Bond - refundable after any kms (over prepaid amount) and diesel deducted | $500.00 |
| Hirer must have TSL Label.  Must be able to drive Road Ranger or will not leave yard. |   |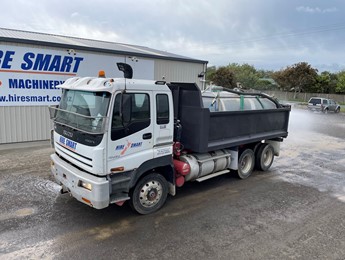 6X4 Sprinkler Truck: 7,000 L
| | |
| --- | --- |
| Isuzu 430HP tipper complete with 7000L tank fitted with high pressure water pump controlling front and rear sprinkler bar with fan jet and flood jet nozzles.  Ring feeder, 18 speed road ranger, 3 way tail gate. Fire hose avaliable if required.  Per day + 95 cents p/km exc GST/Damage Waiver | $500.00 |
| Weekly Rate + 95 cents p/km exc GST/Damage Waiver | $2200.00 |
| Bond - refundable after any kms (over prepaid amount) and diesel deducted | $500.00 |
| Hirer must have TSL Label.  Must be able to drive Road Ranger or will not leave yard. |   |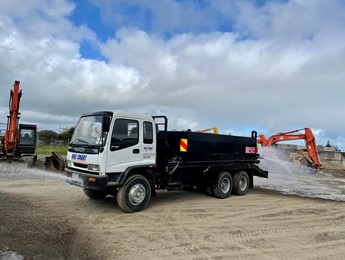 6X4 Sprinkler Truck 10,000L
6x4 Isuzu Truck with 10,000ltr water tank fitted with high pressure hydraulic PTO water pump controlling front and rear sprinkler bar with fan jet and flood jet nozzles. Has high pressure petrol water pump controlling a fire hose on a reel.

  

Per day + 95 cents p/km exc GST/Damage Waiver
$550.00
Weekly Rate + 95 cents p/km exc GST/Damage Waiver
$2300.00
Bond - refundable after any kms (over prepaid amount) and diesel deducted
$500.00
Hirer must have TSL Label.
 
2000 Litre Water Trailer
2000 litre water trailer. Petrol powered water pump running sprinkles and high pressure hose.  Tandem axle braked trailer.  Can self full. Per day exc GST/Damage Waiver
$175.00

Bond - Refundable if 

item 

is returned undamaged, clean, on time and full of fuel (where applicable.)

$100.00
Review our Conditions for Hire and complete the Terms and Conditions agreement form.